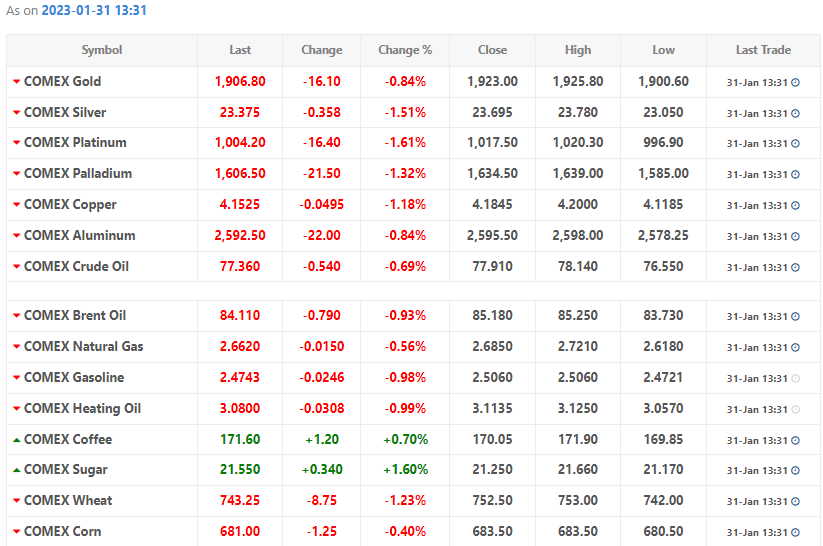 Oil prices fell on Tuesday, touching two-week lows on the prospect of further interest rate increases, a stronger U.S. dollar and ample Russian crude flows.
March Brent crude futures were 86 cents, or 1%, lower at $84.04 per barrel, having touched their weakest level since Jan. 13 earlier in the session.
The March contract expires on Tuesday and the more heavily traded April contract fell by 79 cents, or 0.9%, to $83.71.
Likewise, U.S. West Texas Intermediate (WTI) crude futures were 88 cents, or 1.1%, lower at $77.02 a barrel, having slipped to their lowest since Jan. 11.
"Central banks and the OPEC+ producer group will be in action in the next few days. Interest rate decisions will shed some light on the prospects of economic and oil demand growth," said Tamas Varga of oil broker PVM.
Investors expect the U.S. Federal Reserve to raise interest rates by 25 basis points on Wednesday, with half-point increases coming from the Bank of England and European Central Bank the following day.
The U.S. dollar ticked higher on Tuesday ahead of central bank decisions, making oil more expensive for overseas buyers which could weaken oil demand. Higher rates could also slow the global economy.
Meanwhile, a panel from members of the Organization of the Petroleum Exporting Countries (OPEC) is likely to recommend keeping the group's current output policy unchanged when it meets on Feb. 1 at 1100 GMT, OPEC+ delegates told Reuters on Monday.
Further bearish sentiment followed news that Russia's oil loadings from its Ust-Luga port are expected to rise at the beginning of February, despite western sanctions imposed over its invasion of Ukraine.
The oil demand outlook looks supportive as China recovers, while supply remains uncertain because of upcoming sanctions on Russian refined products, said Ole Hansen, head of commodity strategy at Saxo Bank.
A Reuters survey shows 49 economists and analysts expect Brent to average more than $90/bbl this year, the first upward revision since a poll in October.
China's official purchasing managers' index (PMI), which measures manufacturing activity, rose in January from December, according to the National Bureau of Statistics (NBS).