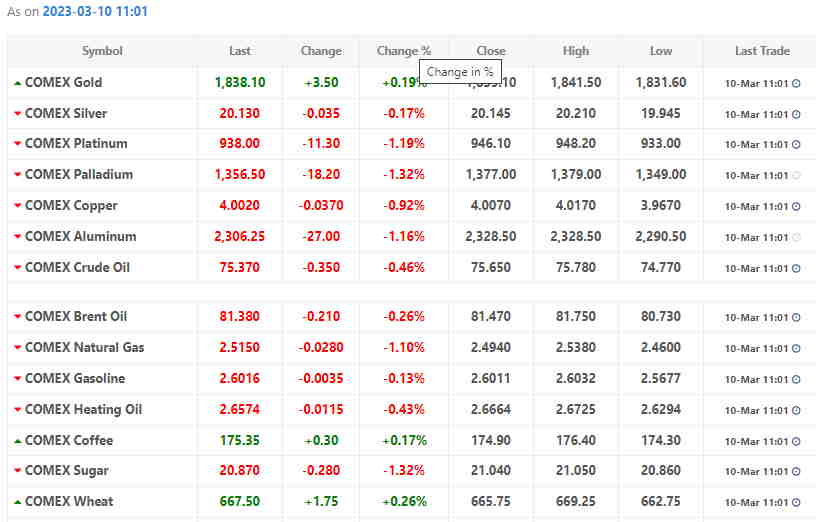 Oil prices were little changed on Friday as traders remained cautious about frequent and steeper rate hikes by the U.S. Federal Reserve, concerns that have triggered a rout in energy prices over the last three days.
Brent futures , which fell about 5% over the last three days, were up marginally from near-three week lows at $81.72 a barrel at 0113 GMT. U.S. West Texas Intermediate (WTI) crude
rose 2 cents, or 0.03%, to $75.74, having slumped by nearly 6% in the last three trading sessions.
U.S. Federal Reserve Chair Jerome Powell has warned of higher and potentially faster rate hikes, saying the Fed was wrong in initially thinking inflation was "transitory" and was surprised by the strength of the labor market.
The number of Americans filing new claims for unemployment benefits increased by the most in five months last week, but the underlying trend remained consistent with a tight labor market.
Expectations of ongoing rate hikes in the world's largest oil producing country and similar remarks over the weekend by the European Central Bank President have cast a shadow over global growth, setting oil up for a weekly fall after two straight weeks of gains.
The prospect of Friday's jobs report triggering faster rate hikes is already initiating steep declines in other financial markets, and analysts expect oil prices could also be under pressure.
All three major Wall Street
stock
indexes
closed lower on Thursday. Analysts expect the U.S. economy to have added 205,000 jobs last month, and see unemployment rate holding firm.
Low unemployment and consistent jobs growth could increase overall spending capacity and trigger inflation. Central banks reduce inflation using higher interest rates, which slows the economy over time.