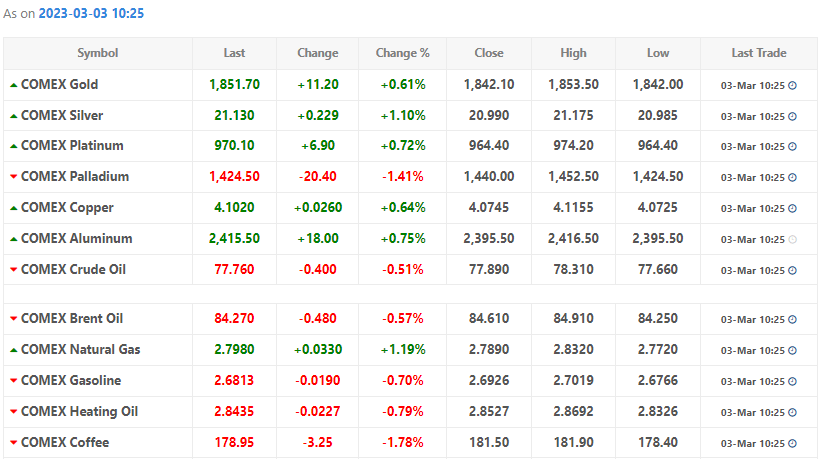 Oil prices pared early gains on Thursday as signs of a strong economic rebound in top crude importer China were offset by fears over the impact of potential increases to European interest rates.
Brent crude futures were up 33 cents, or 0.41%, at $81.08 a barrel by 3:35 p.m. ET. U.S. West Texas Intermediate (WTI) crude futures were up 32 cents, or 0.41%, at $78.01.
Manufacturing activity in China grew at the fastest pace in more than a decade last month, data showed on Wednesday, adding to evidence of a rebound in the world's second-largest economy after removal of strict COVID-19 curbs.
China's seaborne imports of Russian oil are set to hit a record high this month as refiners take advantage of cheap prices.
However, the market was pressured by growing expectations of rate increases by the European Central Bank (ECB) after faster than expected acceleration in consumer prices in France, Spain and Germany.
"Resurfacing inflation worries contributed to the souring mood," said PVM Oil analyst Tamas Varga. "Persistent inflation anxiety will act as a break on a prolonged rally in the immediate future."
Euro zone inflation rose to a higher than expected annual rate of 8.5% in February, according to a first estimate from the EU's statistics agency.
ECB minutes on Thursday also suggested it may well continue raising interest rates beyond the March meeting in two weeks, ING Economics said.
In the United States, a 10th consecutive week of crude stock builds also weighed on the market.
Record exports of U.S. crude oil, however, kept the build smaller than in recent weeks, the Energy Information Administration said.