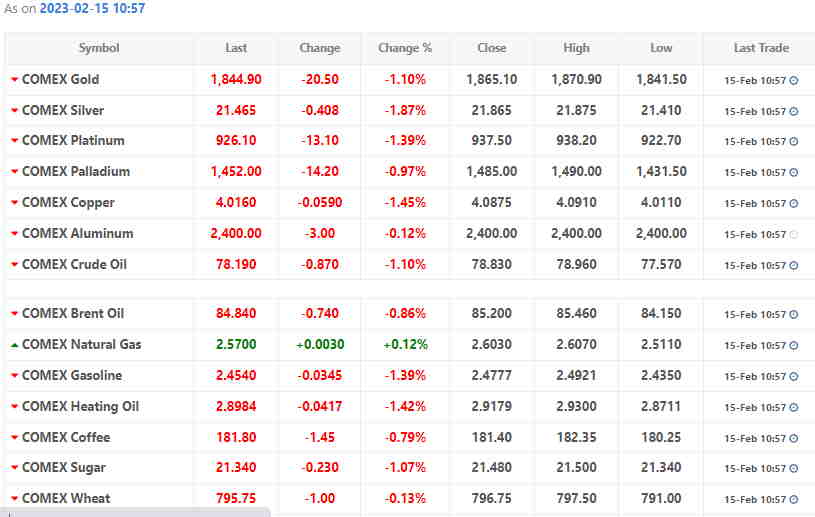 The dollar hit a six-week high against the yen and recovered from a roughly two-week low against a basket of major currencies on Tuesday as data for January showing the smallest annual increase in U.S. consumer prices since October 2021 did not alter market expectations that interest rates will remain elevated for some time.
The greenback initially fell across the board following the inflation report, but regained its footing as U.S. Treasury yields rose as well.
The Labor Department's Consumer Price Index increased 0.5% last month after gaining 0.1% in December, data showed. Monthly inflation was boosted in part by rising gasoline prices, which increased 3.6% in January.
But in the 12 months through January, the CPI grew 6.4%, the smallest gain in about 1-1/2 years, and followed a 6.5% rise in December. January's annual CPI rate though was higher than market forecasts for a 6.2% gain.
"Month-over-month as expected, but upward revisions for last month brought year-over-year numbers above expectations. This should keep the U.S. dollar strong," said Athanasios Vamvakidis, global head of G10 FX strategy, at Bank of America in London.
"Inflation in the U.S. is clearly sticky. This will keep the Fed policies on track, keeping the U.S. dollar strong – not necessarily stronger. The big picture is that the inflation data clearly show that the market is too optimistic about inflation dropping enough this year to allow the Fed to start cutting rates."
In late afternoon trading, the dollar rose 0.5% against the yen to 133.035 yen, after earlier hitting a six-week peak of 133.305 yen.
The dollar index, which measures the greenback against a basket of major currencies, was last flat at 103.22. It dropped as low as 102.50, its weakest level since Feb. 3
The euro gained 0.1% to $1.0738, hitting a roughly two-week high of $1.0805 after the data. The dollar also rose 0.2% versus the Swiss franc to 0.9215 francs.
"The market is leaning toward short dollars for the first part of the year," said Erik Nelson, macro strategist at Wells Fargo in London. "With a CPI number like this and recent activity numbers, it would be hard for the dollar to continue to sell off. I think it will remain relatively strong in the near term."
Futures tied to the Fed's policy rate stuck to bets on Tuesday that the U.S. central bank will raise interest rates at least two more times. The futures contracts pricing showed traders are betting heavily that the Fed will raise rates by a quarter of a percentage point at each of its meetings in March and May.
The current target range for the Fed's benchmark overnight interest rate is 4.50%-4.75%. The peak federal funds rate is seen hitting 5.272 in July.